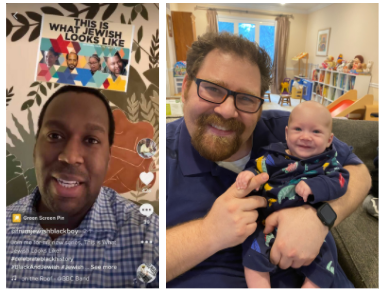 WashU Hillel Staff News – Spring 2021
Jackie Levey, WashU Hillel's CEO, has been re-elected to the Hillel International North American Director's Cabinet for another two-year term, following her initial Cabinet service and leadership on the Hillel International Board of Directors.  As part of the 15-person Cabinet, Jackie represents Hillels that employ seven or more staff members and are affiliated with private universities around the country.  The Cabinet partners with Hillel International leadership to set direction and strategy for the Hillel movement.


 

Assistant Director, Tony J. Westbrook, Jr., has leveraged his voice and social media platform as a vehicle to educate on issues of race and antisemitism.  To commemorate Black History Month this past February, Tony launched, "Jewish Black Folk You Should Know!" featuring a different Jew of Color (JOC) on his TikTok daily.  His profiles of historical figures, celebrities, activists, WashU alumni, and numerous others reflected the diversity of the Jewish community.  Tony sought to demonstrate the "beautiful tapestry" of our community.  "I'm using this month to educate as many people as I can about the diversity of the Jewish community, specifically Jews of color," said Tony in a Jewish Light article about the campaign. "Being Jewish in America has come to mean being white and that simply isn't the case."  "

St. Louisan's TikTok Videos Try Explaining What Jewish Looks Like

," St. Louis Jewish Light, Feb 3, 2021; "

TikTok didn't know Jews of color existed. This frum Black Jew is teaching them

," The Forward, February 25, 2021


 

Silk Foundation Campus Rabbi Jordan Gerson and wife Becky welcomed beautiful Ishai Emet on December 3, 2020.  Ishai joins proud big sisters Daliya, Ashira, and Nessa.


 

Abby Ross will conclude her two-year Springboard Social Justice Fellowship in June to begin studies toward a Master of Science in Higher Education Administration & Policy degree from Northwestern University.  Abby has had a tremendous impact on our Hillel community over the past 20+ months.  Although we're sad for her to leave, we're excited about everything she will achieve as she pursues her studies in higher ed and continues to make a difference in enriching the lives of students on campus.