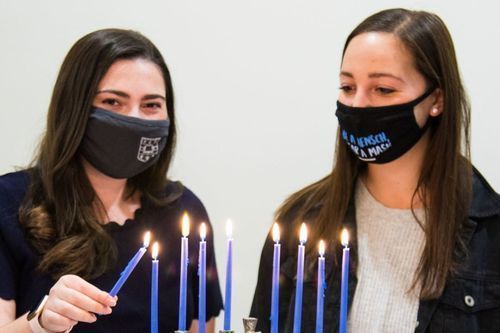 Photo Credits: Sam Cohen, WU '23
Jew It Yourself Hanukkah! 
Let us take the stress out of the holiday for you with a Hanukkah Jew It Yourself micro grant! We'll provide you and your friends with funds to host your own Hanukkah gathering! You'll receive delicious latkes, sufganiyot, gelt, and much more! Valid all 8 days of Hanukkah. Sign up here!
Donut Pop Up | Monday, 11/29 | 10am-12pm | S40 Clocktower
Hanukkah is here and it is time to celebrate! Stop by the Clocktower on your way to class and grab a donut! We'll be handing out sweet treats for all!
HLC's LatkePalooza | Tuesday, 11/30 | 7-8:30pm | DUC Room 237
Hillel Leadership Council invites you to the most anticipated event of the year--LatkePalooza! Come play dreidel, eat latkes, and bring in the spirit of the Festival of Lights! We'll have games, delicious food, music, and more! 
Deep Fried Everything | Wednesday 12/1 | 3-5pm | Underpass
Join us as we celebrate the miracle of oil and a favorite midwestern tradition, as we deep fry everything! Rabbi Jordan and Avery will be deep frying all your favorites, so swing by the underpass and try one of their fried concoctions. 
Sufganiyot with WSI | Thursday, 11/2 | 11am-2pm | DUC 233
Join WashU Students for Israel on Thursday, December 2nd for some amazing Hanukkah sufganiyot (donuts)! You'll be able to choose from different fillings and toppings to make your sufganiyah even better!
A Very Fried Shabbat | Friday, 12/3 | 7pm | Hillel
A Very Fried Shabbat returns after a 2 year hiatus! Bring a friend or two for the tastiest Shabbat dinner of the year. See the menu below and don't worry, we have non-fried items as well! Sign up here.
Fried Southern Chicken
Moroccan cigars
Fried Pickles
French Fries
Fried zucchini spears
Salad
Jelly donuts
Hanukkah Photo Contest 
Do you have an amazing Hanukkah sweater you are dying to wear this year? Are you planning a fun Hanukkah party? If you are, we want to see! Send us photos of how you're celebrating the holiday and you might win a prize! Entries can be sent either to allison@washuhillel.org or DM our Hillel Instagram.
Service Project 
Cleaning out your closets as the seasons change? Here's an opportunity to add a little warmth and light into the lives of those in need. Visit one of our two drop boxes on campus located in Bears Den and the Village Dining Room and donate your gently used winter clothing today!