WashU Campus Leaders Israel Experience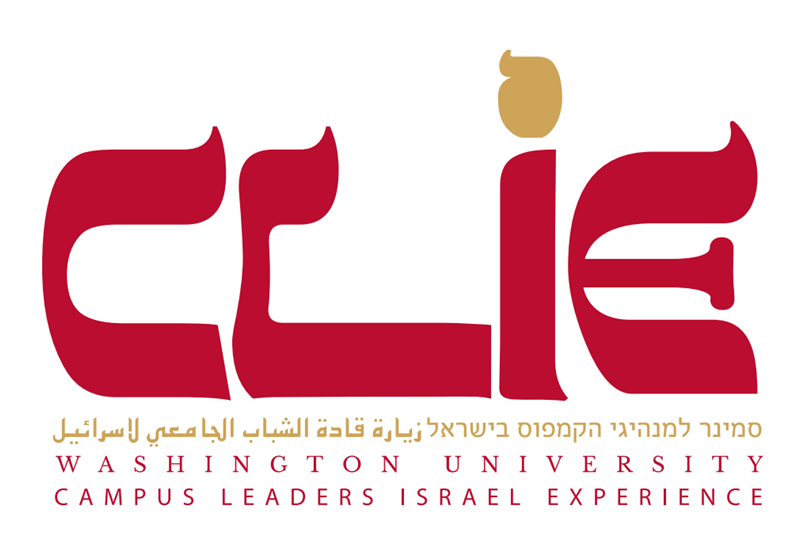 Trip Dates:  August 1 - 11, 2022
Cost:  Free*
Hillel at Washington University in St. Louis is excited to begin the application process for the 2022 WashU Campus Leaders Israel Experience (CLIE)!  This trip is designed for 25 undergraduate student leaders involved in diverse campus groups and roles on campus, most with little or no connection to or previous experiences in Israel.  CLIE participants will interact meaningfully with Israeli society and history, exploring the many nuances and complexities of maintaining a Jewish and democratic state while developing a textured understanding of the Israeli-Palestinian conflict. 
The trip will take student leaders across the country, exploring old and new cities, engaging with prominent authors, activists, political leaders, and more. Students will learn about the unique social, political, economic, and religious aspects of life in different regions, and engage with one another in conversation about their experiences and viewpoints in Israel and back on campus.
Trip Highlights
This unique Geo-Political tour of Israel and the West Bank is designed to give participants a nuanced experience, learning from a spectrum of Israeli and Palestinian society.  Below is a sample of highlights from the 2021 summer trip, though the final itinerary is subject to change based on COVID-19, global health conditions, as well as security.
-        Explore models of co-existence with an Islamic Cleric
-        Learn about Tel Aviv's thriving LGBTQIA* culture on an interactive walking tour
-        Experience Mediterranean beach culture on the coast of Tel Aviv
-        Visit the border community of Sderot just a few miles away from Gaza and see how they've adapted to their environment
-        Take part in peace project on the border wall of Gaza
-        Experience (and taste!) the agricultural revolution taking place in Israel's Negev Desert
-        Float in the Dead Sea
-       Meet with a member of Israel's parliament 
-        Briefing with senior Israeli military advisors
-        Tour Yad VaShem – Israel's World Holocaust Remembrance Center
-        Taste your way through Mahane Yehuda, Israel's largest open air market
-        Take part in a traditional Shabbat dinner
-        Reflect at the Western Wall, Judaism's holiest site
-        Explore Jerusalem's Old City including the Via Dolorosa and the Church of the Holy Sepulcher
-        Eat a TON of hummus
-        Visit Israeli Settlements in the West Bank and meet with a community member over lunch and wine tasting
-        Ascend the Temple Mount – a site holy to both Jews and Muslims
-        Travel to Bethlehem in the West Bank and tour the Church of the Nativity
-        Cruise the Sea of the Galilee and enjoy nightlife in Tiberias
-        Explore East Jerusalem on foot encountering Arab and Israeli neighborhoods co-existing side-by-side
-        Go off-roading in Israel's north to explore the history and terrain of the Golan Heights
*Trip Costs
Airfare to/from Israel, 2 meals per day, 10-day guided tour of Israel, and accommodations in 4-5 star hotels, and authentic Israeli Kibbutzim (communal farms), plus travel medical insurance and Covid Isolation housing insurance are fully-underwritten by Hillel at Washington University in St. Louis and the Maccabee Task Force.  Participants are required to cover airfare/transportation to and from JFK International airport, one meal per day, and spending money for snacks, souvenirs, etc. 
Selected participants are required to submit a $150 refundable trip deposit.  The deposit will be submitted upon acceptance of the trip and will be refunded so long as the individual goes on the trip or withdraws prior to May 8, 2022.
Have any additional questions? Contact Rabbi Jordan here.

Access the Application Form here!