Bear Beginnings & Welcome Events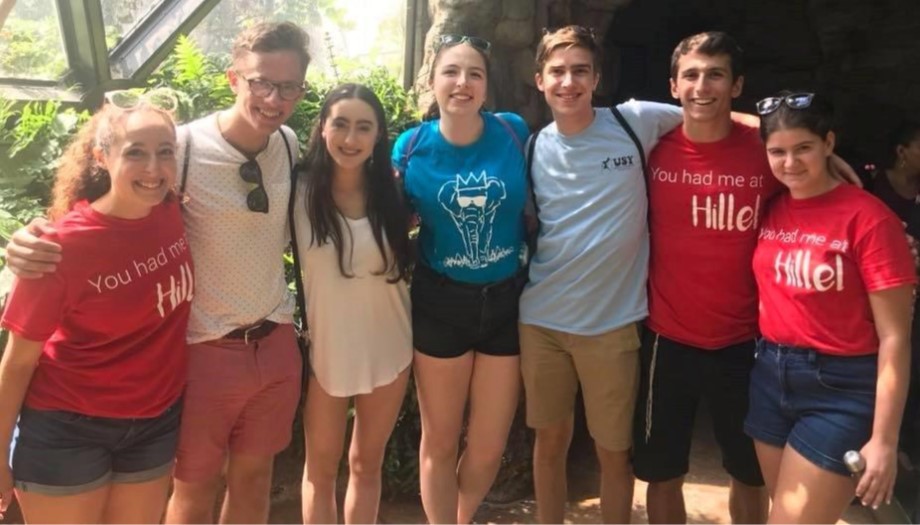 ---
BEAR BEGINNINGS 2019
Friday, August 16
SHABBAT SERVICES
5:45-6:30pm | WashU Hillel, 6300 Forsyth
Join us for your choice of services to usher in Shabbat at WashU!  Please check back here closer to move in for service offerings.
BEAR BEGINNINGS SHABBAT DINNER WITH CHANCELLOR ANDREW D. MARTIN
6:30-8:30pm | WashU Hillel, 6300 Forsyth
Celebrate your first college Shabbat with your family and meet new friends at a festive Hillel dinner with Washington University Chancellor Andrew D. Martin.  Dinner is free for first years, $18 per additional family member.  RSVPs are strongly encouraged here by Friday, August 9.  Limited walk-in space available.
SECRETS OF SUCCESS:  THRIVING IN COLLEGE AND BEYOND
DESSERT & DISCUSSION WITH WASHU'S DEAN OF JOY
8:30-9:30 pm | WashU Hillel, 6300 Forsyth Blvd.
Stay after Hillel's Shabbat dinner or come by at 8:30 pm for a special dessert and discussion featuring Jill Stratton, PhD, WashU Associate Dean for Undergraduate Residential Learning. Dr. Stratton, a positive psychologist and longtime administrator and faculty member at Washington University, will share strategies for succeeding in college and life.

SATURDAY, AUGUST 17
MOVE-IN DAY
9:00am-4:00pm | WashU's Danforth University Center 
Visit WashU Hillel's booth at move-in day tabling in the Danforth University Center (DUC) to meet Hillel staff, grab some free swag, and learn more about Jewish life on campus! 
AFTERNOON OPEN HOUSE & SEUDAH SHLISHIT
3:00-5:00 pm | WashU Hillel, 6300 Forsyth Blvd.
Relax and unwind, learn about Jewish life on campus, and get to know the Hillel staff over light refreshments. Tours of our beautiful home will also be offered. No reservations required.

FRIDAY, AUGUST 23
SHABBAT SERVICES
5:45 pm | WashU Hillel, 6300 Forsyth Blvd.
Meet up with other students and Hillel student leaders at the South 40 Clocktower to walk over to Hillel for your choice of Shabbat evening services. For information about services, please check back here.
FIRST YEAR FRIDAY SHABBAT DINNER
7:00 pm | WashU Hillel, 6300 Forsyth Blvd.
Take a break from the hustle of Bear Beginnings activities and enjoy a relaxing and delicious Shabbat dinner with new friends, returning student leaders, and the Hillel staff. Walk to Hillel directly or meet up with other students at the South 40 Clocktower at 6:45 pm to walk over together. RSVPs are strongly encouraged here, but walk-in space will be available.

SATURDAY, AUGUST 24
HILLEL SHABBAT MORNING SERVICE
10:00am | WashU Hillel, 6300 Forsyth Blvd.
Join us for danishes and davening with a lively student-led conservative/traditional egalitarian Shabbat morning service. 
HILLEL SHABBAT SHA-BRUNCH
11:30am-1:30pm | MUDD Multi Purpose Room on the South 40
Enjoy bagels, schmear, lots of lox, and more at Hillel's popular Shabbat Sha-Brunch. Meet fellow first-years, schmooze with Hillel staff and students, and learn more about Jewish life on campus. Stay for the entire time or drop by!
---
FIRST WEEK OF CLASS EVENTS
Monday, August 26
JEWBQ
5:00-7:00pm | Lien-Gregg Porch on the South 40
Join Hillel Leadership Council and Chabad Student Association for a kosher BBQ on the Lien-Gregg Porch to kick off the year with Jewish students on campus.  Vegetarian options available.
Thursday, August 29
HILLEL LEADERSHIP COUNCIL'S ICE CREAM SOCIAL
5:30-6:30pm | DUC 234
A great time for first years and returning students to connect and enjoy St. Louis' famous Ted Drewes Frozen Custard after the first few days of class!  

Friday, August 30
WELCOME BACK SHABBAT DINNER
Services at 5:45pm, dinner at 7:00pm | Hillel Building
Unwind after the first week of classes with Hillel's annual Welcome Back Shabbat Dinner!  Schmooze with other first years and meet returning students over a delicious classic Shabbat meal.
---
FYSH (First Year Students of Hillel)
FreshFest Events
Check back soon for our first year programs in September, including a Cardinals game and apple picking before Rosh Hashanah!