Hanukkah 2018
Event descriptions below!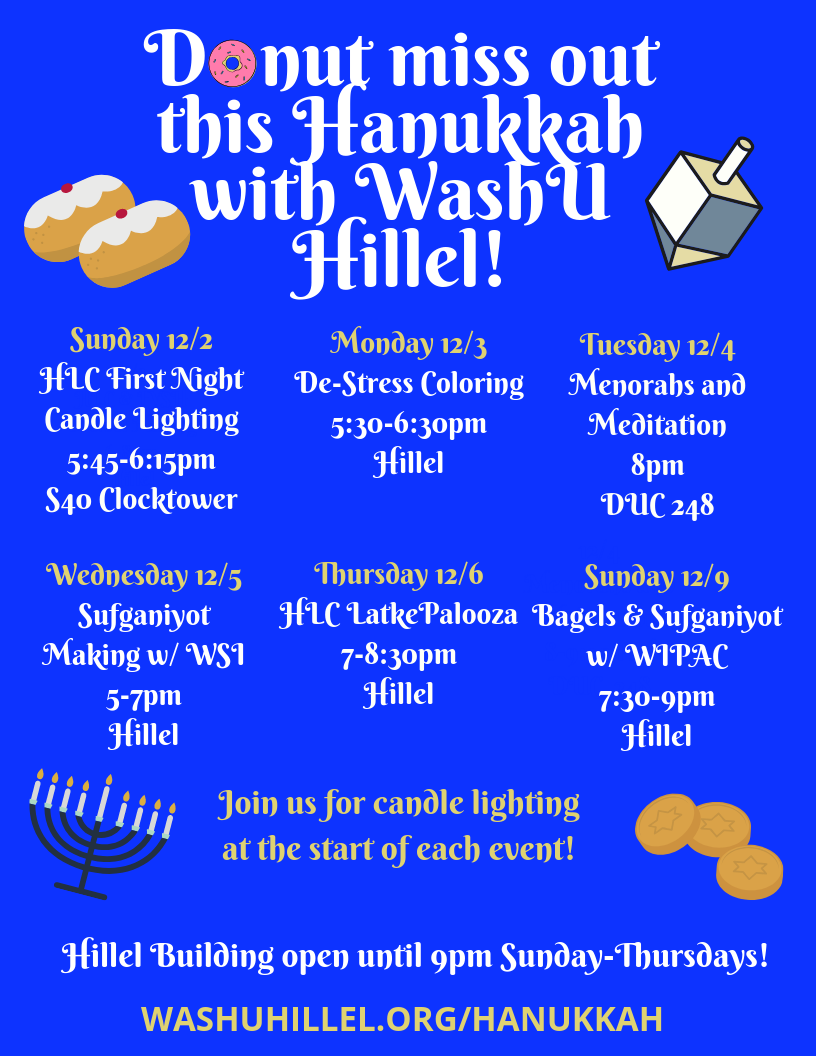 Join us for menorah lighting, latke makings, and so much more!
The Hillel building is open Sundays 3-9pm, and Mondays-Thursdays 10am-9pm to study and relax outside of our candle lighting times!
If you need a menorah, we will also have free menorahs & candles available at Hillel anytime we are open starting on Sunday.
---
Sunday, 12/2
HLC First Night Candle Lighting
South 40 Clocktower
5:45-6pm
Songs, dreidels, or dinner to follow at your choice!
---
Monday, 12/3
De-Stress Coloring Night
at Hillel
5:30-6:30pm
Have fun regressing into childhood and de-stress with fun coloring pages and snacks! We will light candles together at the beginning of this event.
---
Tuesday, 12/4
Menorahs and Meditation
DUC 248
8pm 
Take a short time out of your early evening for some enLIGHTenment as we light the candles of the Hannukiah and reflect on the meaning of Hanukkah. Nachshon Intern Ari Rosenthal will lead us in a discussion of secular and Jewish mindfulness strategies to keep us sane during finals, and do a short guided meditation. And there will be delicious jelly donuts (sufganiyot)!  
---
Wednesday, 12/5
Sufganiyot Making with WashU Students for Israel
at Hillel
5-7pm
Join WSI and Hillel to make jelly donuts and to learn about celebrating Hanukkah in Israel! Candle lighting at 5pm followed by sufganiyot-making at 5:15!
---
Thursday, 12/6
HLC & FYSH LatkePalooza
at Hillel
7-8:30pm
Come celebrate at Hillel Leadership Council & First Year Students of Hillel's Latkepalooza! The event will begin with candle lighting at 7pm. Afterwards, you can...

-Enjoy some fresh latkes with all the toppings
-Make your own dessert dreidels and gingerbread menorahs
-Roast marshmallows and hang out at our bonfire
-Play your friends in dreidel (with gelt, of course)
-Warm up with hot cocoa

Feel free to stop by whenever you can, between 7pm and 8:30pm.
---
Sunday 12/9
Bagels and Sufganiyot with WIPAC
at Hillel
7:30-9pm
Join WIPAC and Hillel to celebrate the last night of Hanukkah! The eighth night will feature candle lighting, bagels and sufganiyot, and Friends of the IDF letter writing.