Holocaust Survivor Eva Perlman Speaks at Kristallnacht Commemoration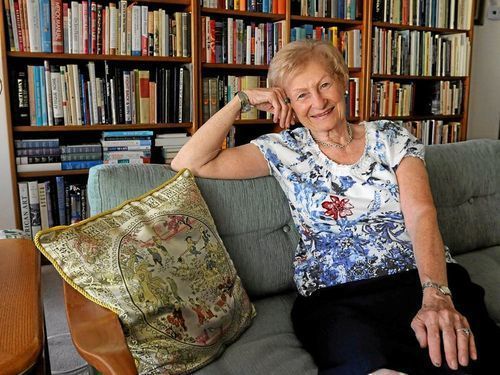 On Tuesday, November 8, survivor Eva Perlman shared her extraordinary life story with a group of 75 on an engaging Zoom call.  Her talk, hosted by Hillel at Washington University in St. Louis and the Hillel Leadership Council, was in commemoration of Kristallnacht (the Night of Broken Glass).  The recording of the Zoom can be found by clicking here.
Perlman was born in Berlin, Germany in 1932.  Her family survived World War II by hiding in the mountains of southern France, narrowly escaping capture by the Nazis.  Following her childhood in Germany and France, Perlman has lived in Israel, Switzerland, England, Uganda, Canada, and now the U.S.  Her autobiography, Eva's Uncommon Life – Guided by Miracles, details the many miracles that kept her family alive and permeated her long and rich life.  After adventures, travel, hardships, and multiple careers, she ultimately found her purpose as a Holocaust survivor educating Jewish teens on the annual March of the Living.  Perlman brings pearls of wisdom, humor, and joie de vivre to her tale of love, loss, and choosing happiness.
The event was underwritten in part by WashU Hillel's Harry and Mary Neuman Speaker Endowment.  For more information, contact Abby Ross, Springboard Social Justice Fellow at Hillel at Washington University, at abby@washuhillel.org.