Passover 2018 / 5778
Celebrate Passover your way with a variety of options from Hillel. Choose from meals throughout the holiday, programs, Seders, and more!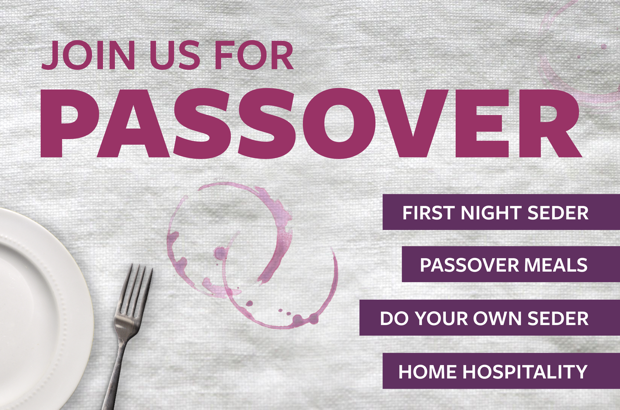 First Night Seder
Friday 3/30, 7:00pm
Umrath Lounge 
Are you looking for a meaningful, family-style Passover experience? WashU Hillel's free campus Seder is not to be missed! RSVP here!
This Seder will last approximately 2.5 hours.
 
Co-sponsored by Hillel Leadership Council and Student Union.
Passover Meals
Join us for catered Kosher for Passover lunches and dinners at Hillel throughout the holiday (free for students, non-students see info below).  
View the menu for each meal by clicking on the RSVP links below!
Shabbat Lunch: Saturday 3/31, 12:30-2:30pm 
Lunches: Sunday 4/1- Friday 4/6, stop by anytime between 11:30am-1:30pm 
Special Photo Booth Lunches: Tuesday 4/3 and Wednesday 4/4
Come for the Matzah and stay-der (seder) for a memory! Come to Passover lunch at Hillel and stay to take a photo in our photo booth on 4/3 and 4/4. Even better, send the photo to your grandparents to remind them of your un-daiyenu (dying) love. Oy with the puns already. Just come! Sign up here so that we can mail them your photos!
Dinners: Sunday 4/1-Thursday 4/5, 6:00-8:00pm (*NOTE Tuesday 4/3 is student only for Matzah Madness!) 
FYSH Matzah Madness: Tuesday 4/3 at 6:00PM (Students only - see below)

Limited walk-in space is available for these meals; RSVPs close at noon two days before each meal. RSVPs are required if you are vegetarian,vegan or have a dietary restriction. Shabbat Dinner & Matzah Madness RSVPs are encouraged, but not required.
Students: All meals are free for you! RSVP here!
Community members, faculty, prospective students and families: RSVP here!
Meals are also available through WashU Dining Services throughout the week through the GET app. More info here!
Matzah Madness
Join FYSH (First Year Students of Hillel) on Tuesday, April 3 for a matzah celebration with our own Hillel Leadership Council! Invite your friends, especially those who may have not experienced Passover for this fun and tasty night! All class years are welcome. RSVPs are appreciated, but not required.
Sponsored by First Year Students of Hillel and Student Union.
Do Your Own Seder
Start your own Passover traditions by hosting a Seder with your friends! Sign up for a DYO Seder through Hillel to receive the following resources for your Seder:
A filled Seder Plate and a box of Matzah for every 10 people attending

A choice of over 20 different types of Haggadot to borrow

Paper goods

Catering options and contacts - although potlucks are special too!

$5 subsidy per person for food

Learn the ins & outs of leading a Seder at a Do Your Own Seder Workshop on 3/25 from 12:00-1:00pm or 3/26 from 6:00-7:00pm (you or a representative must attend a workshop)
DYO Seder signups have closed. Join us at our first night Seder - we accept last minute walk-ins!
Home Hospitality
Miss your family? Want to attend a Seder in a home? We'll match you with a local family to share a Seder.
Home hospitality sign-ups have closed.