Hanukkah 2017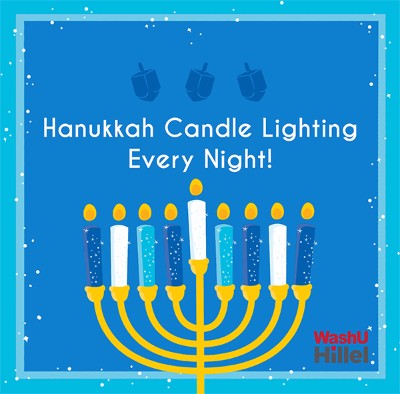 Join us for menorah lighting every night, our extended hours, and more! Check out this year's list of events for Hanukkah 2017!
Extended Building Hours:
Monday 12/11-Thursday 12/14, 10am-Midnight
---
12/12 First Night Lighting on Campus
5pm lighting in BD Private Dining 
6pm-7:30pm Latke Study Break at Hillel
---
12/13 Finding Our Balance: Cookie Decorating & Mindfulness Discussion
5:30pm-6:45pm
Hillel
Just like a cookie needs the right balance of icing, sprinkles, and other toppings, our lives need balance too! Following Hanukkah candle lighting at 5:30, we will de-stress and decorate some cookies, participate in a mindfulness meditation led by sophomore Preston Tasoff, and do some activities to help us determine how we wish to spend our time and what we need to prioritize to be happy and successful. This program will end by 6:45pm.
---
12/14 Third Night Sufganiyot Study Break
5:30pm-7:30pm
at Hillel
Join Israeli shaliach (emissary) Yael for a cooking class where we make sufganiyot - the doughnut's Jewish cousin! Co-sponsored by WashU Students for Israel
---
12/15 Fourth Night and Senior Happy Hour Before Shabbat
4:30pm-5:15pm Senior Happy Hour (with Wine and Cheese!) 
at Hillel
5:15pm lighting
at Hillel and welcome to all class years
5:45pm Conservative Service
at Hillel
7:00pm Shabbat Sha-Breakfast for Dinner
at Hillel
---
12/16 Fifth Night Hanukkah Havdallah
5:30pm
at Hillel
Join us for Havdallah followed by candle lighting
---
12/17 Sixth Night Lighting
5:30pm
at Hillel
---
12/18 Seventh Night Lighting
5:30pm
at Hillel
---
12/19 Eighth Night Lighting
5:30pm
at Hillel