WashU Campus Leaders Israel Experience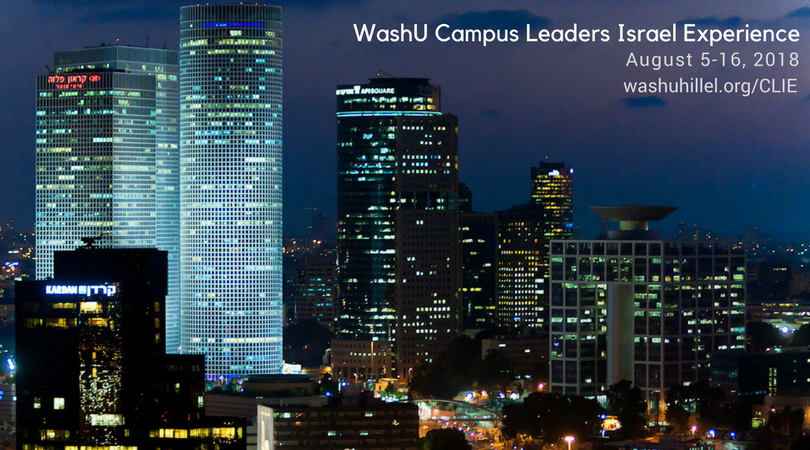 Trip Dates:  August 5-16, 2018
Cost:  Free*
Hillel at Washington University in St. Louis is excited to announce the 2018 WashU Campus Leaders Israel Experience (CLIE)!  This trip is designed for 25 undergraduate student leaders involved in diverse campus groups and roles on campus, most with little or no connection to or previous experiences in Israel.  CLIE participants will interact meaningfully with Israeli society and history, exploring the many nuances and complexities of maintaining a Jewish and democratic state.
The trip will take student leaders across the country, exploring old and new cities, engaging with prominent authors, activists, political leaders, and more.  Students will learn about the unique social, political, economic, and religious aspects of life in different regions, and engage with one another in conversation about their experiences and viewpoints.
Trip Highlights
Tour traditional Jewish, Christian, and Muslim sites

Enjoy a traditional Shabbat dinner with an Israeli family

Experience Bedouin tent hospitality

Travel to Ramallah in the West Bank to visit the Mukata'a, HQ of the Palestinian Authority

Explore Gush Etzion, in the original West Bank settlement bloc

Visit Bethlehem with a local guide and tour the Church of Nativity

Raft down the Jordan River

Explore the Golan Heights in an off-road Jeep tour

Experience sunrise from the top of the desert fortress, Masada

Walk the via Dolorosa and visit the Church of the Holy Sepulcher

Visit the Achmadiya Mosque in the Kababir neighborhood of Haifa

Float in the Dead Sea

Tour the Baha'i Gardens in Haifa

Meet with policy leaders and other influentials
Important Dates and Information:
Tuesday 3/20 at 6:00PM: Information Session at Hillel
Friday 3/23: Applications Due 
Monday 3/26 – Friday 3/30: Interviews
Tuesday, April 3:  Participants Notified by 5:00PM
Tuesday, April 10:  Participant Acceptance & Deposit Deadline
Sunday, April 15 at 6:00PM:  Cohort Orientation Session 1 (Mandatory)
Sunday, April 29 at 6:00PM:  Cohort Orientation Session 2 (Mandatory)
*Trip Costs
Airfare to/from Israel, 2 meals per day, 10-day guided tour of Israel, and accommodations in 4-5 star hotels, authentic Israeli Kibbutzim (communal farms), and a night in a Bedouin tent, plus travel medical insurance are fully-underwritten by Hillel at Washington University in St. Louis and the Maccabee Task Force.  Participants are required to cover airfare to/from JFK International Airport in New York City, one meal per day, and spending money for snacks, souvenirs, etc. 
Selected participants are required to submit a $150 refundable trip deposit.  The deposit will be submitted upon acceptance of the trip and will be refunded so long as the individual goes on the trip or withdraws prior to
May 20, 2018.
Click here to start your application!
Need more info?  Have questions?  Email Rabbi Jordan Gerson, WashU Hillel's Silk Foundation Campus Rabbi, at rabbijordan@washuhillel.org