Chesed Shel Emeth Cemetery Campaign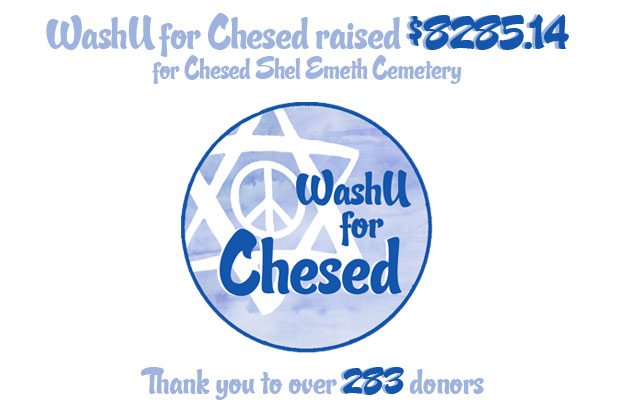 #WashUforChesed raised $8285.14 for the Chesed Shel Emeth Cemetery! Kol hakavod (good job) to all students and staff who helped fundraise, and a BIG thank you to all who donated! If you missed the opportunity to donate, please consider supporting fundraising efforts for the Islamic Society of New Tampa Mosque or the Mount Carmel Cemetery in Philadelphia that were defiled in late February.
See below for more information about the WashU for Chesed campaign.
---
#WashUforChesed
Chabad at WashU & WashU Hillel are coordinating a joint volunteer and fundraising effort to support the Chesed Shel Emeth Cemetery. 
Chesed Shel Emeth is a historic Jewish Cemetery founded in the late 1800s, located in University City in St. Louis. Between Sunday, February 19 and Monday, February 20, vandals knocked over and damaged over 150 headstones. 
The news of the cemetery desecration has sent shock waves throughout the WashU and St. Louis Jewish communities and beyond. The founders of this historic cemetery came to the United States in the late 1800s looking to escape the rising tide of anti-Semitism in Russia and build a vibrant Jewish community in America.

Over the past months, we've witnessed an increase in anti-Semitism around the country. This attack on Chesed Shel Emeth has hit very close to home and in it we see a threat to the very sense of security the founders of the Cemetery sought here in America. 

One of the paramount values espoused in Jewish tradition is that of kavod hamet, honoring the dignity of the deceased. We take great care to exhibit respect toward the deceased, which is, in part, why this attack is so horrifying. It is important for our community to come together to stand in support of the Cemetery and against acts of anti-Semitism and hate.  Chabad at WashU and WashU Hillel along with the Chabad Student Association and Hillel Leadership Council are coordinating a joint volunteer and fundraising effort to support the Chesed Shel Emeth Cemetery.  Chabad and Hillel staff are also available to counsel or speak with students.
How you can help:
Thank you for your interest - this campaign has ended. Volunteer opportunities are not currently available.
Contact Jackie Levey (WashU Hillel) or Rabbi Hershey Novack (Chabad on Campus) for more info.